Bringing Broadband to You
Loop Scorpio Limited is a small, geographically focussed company, providing broadband connectivity and services. We are based in Gloucester and have operations in both Gloucestershire and Herefordshire.
Our aim is to become a major local player in the provision of broadband connectivity within the counties of Gloucestershire and Herefordshire. Our goal is to provide our customers with broadband connectivity that scales over time in a way similar to that of the PC industry. To achieve this, we must sidestep BT's local access network and introduce our own infrastructure.
Since we primarily use our own self-provided infrastructure in our areas of operation, this necessitates that we only offer service where we can realistically support our infrastructure. This is in contrast to the majority of ISPs who essentially resell services over BT's local access network and are thus able to offer a "national" service.
We are a local company, offering local levels of service and support. We will prosper or die on our ability to live up to (and hopefully exceed) the rising expectations of our customers.
When we started out in 2003, we offered a service with a maximum speed of around 500 Kbps. With our current wireless infrastructure, this has now risen to between 6 Mbps and 12 Mbps. To move beyond that, we are exploring ways to deploy our own fibre optic infrastructure. This would be real FTTH (fibre to the home), not the so-called fibre optic broadband peddled by the major ISPs which is actually still delivered over legacy copper telephone wires or in Virgin's case coax cable.
To give you a taste of things to come, we now have a couple of customers in Ledbury connected directly over fibre. The screenshot below shows the result!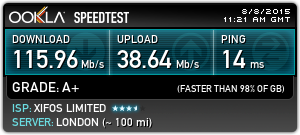 These customers are on our Regular service tier, paying £32.50 per month, but with enhanced limits set on our bandwidth manager to take advantage of the direct fibre connection
We are now also gradually introducing Ultrafast Capable wireless connectivity in certain areas. In some areas, this is being introduced in addition to our normal service. In others, such as Hallwood Green and (soon) Clifford's Mesne, the areas will be solely Ultrafast Capable.
Email: enquiries@loopscorpio.net